The Wizard's Bar & Grill GETS CRAFTY every Friday. Kick off your weekend with us and the finest craft brews… The next 5  weeks we'll be showcasing Drop-In Brewing Company in Middlebury.
This Friday, The Wizard's Bar and Grill moves to Waterbury!!! We'll hang at Arvads Grill… located at 3 South Main Street in Waterbury. Every Friday from 4 to 7 1/9-2/6
Joey Vega and the Wizard Crew holding it down with Farrell Distributing
 http://www.wizn.com/common/page.php?id=181
Enjoy WIZN tunes and Drop-In craft beer specials
Drop-In Brewing Company in Middlebury is home of the American Brewers Guild… the nation's premier brewing school for the craft brewing industry! Check out their classes. http://www.abgbrew.com/
Win "Free Case Fridays!" Every Friday, someone will score a free case of our featured craft brew… from Pearl Street Beverage.
Plus, this Friday we'll be giving away:
Smugglers' Notch Lift Tickets
Tickets to see The Machine: Pink Floyd Tribute at Higher Ground on 1/30
For another chance to win "Free Case Fridays"… enter today at     the Drop-In Growler Bar display at Pearl Street Beverage in Burlington.
So… come GET CRAFTY with Drop-In Brewing Company during The Wizard's Bar & Grill this Friday from 4 to 7 at Arvads Grill in Waterbury.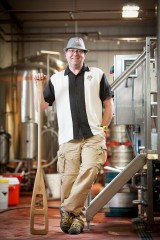 Steve Parkes
Owner & Lead Instructor
Welcome to the American Brewers Guild!
If you are new to the Guild, let me extend a welcome to the nation's premier brewing school for the craft brewing industry. Over the years we have earned a strong reputation for providing the brewing industry with the kind of brewer it needs.
We developed the CraftBrewers Apprenticeship Program (CBA) to address the need for new brewers to have some practical experience and training on graduation. We then developed the Distance Education version of the CBA to aid students of brewing science in obtaining that all-important qualification while working at their breweries or other jobs.
As technology allows we will continue to develop the Distance Education CBA so that it will continue to be at the forefront of brewing education. Each year two correspondence courses, the Intensive Brewing Science and Engineering and the CraftBrewers Apprenticeship Program courses will be offered twice each, in January and June.
In response to demand from the industry we have developed the Brewery In Planning to train those embarking on the project of opening their own brewing company. It rest on the skeleton of the IBS&E with content tailored toward ownership.
Owning our own facility, with its production brewery, allows us to offer new continuing education classes, classes in Quality, Brewing basics, home brewing classes and general beer interest classes are all on the schedule
Tour our Web site and if you have any more questions give us a call.